1H 2022: Lightbox Mall Traffic Exceeds Pre-Pandemic Levels
1H 2022: Lightbox Mall Traffic Exceeds Pre-Pandemic Levels
Given the challenges of the past few years, it would be reasonable to think malls would still be in recovery mode well into 2022. Retail centers weathered a series of obstacles starting with total closures in March 2020, capacity limitations as lockdowns lifted, and modified shopping experiences as the world navigated wave after wave of Covid variants. The ensuing aftershocks of supply chain issues, sky-high gas prices, and record inflation rates would have been enough to keep shoppers away from malls. Instead, consumers are flocking to our retail venues at levels higher than pre-pandemic.
1H 2022 Traffic 6% Higher Than 2019
For the first half of 2022, Motionworks (formerly Intermx) reports that traffic to Lightbox's network of malls has fully bounced back from the toll of Covid – and then some. The 1H national average is 6% higher versus the same period in 2019. Monthly January through June figures have either met pre-pandemic levels or surpassed them by up to 11%.

Top DMAs Come Back Strong
While many top 10 markets saw sizable returns last year, only New York, Philadelphia, and Boston neared 90% for the first half of 2021. In contrast, 1H 2022 traffic among the top 10 DMAs exceeded 2019 by +6%, mirroring our national average.
The two major California markets of Los Angeles and San Francisco are particularly impressive considering their recovery in 2021 paced well behind other top DMAs, largely driven by the state's long-lasting restrictions. Their 1H 2022 traffic surpassed 2019 by +12% and +28% respectively, a steep climb from -49% and -54% last year.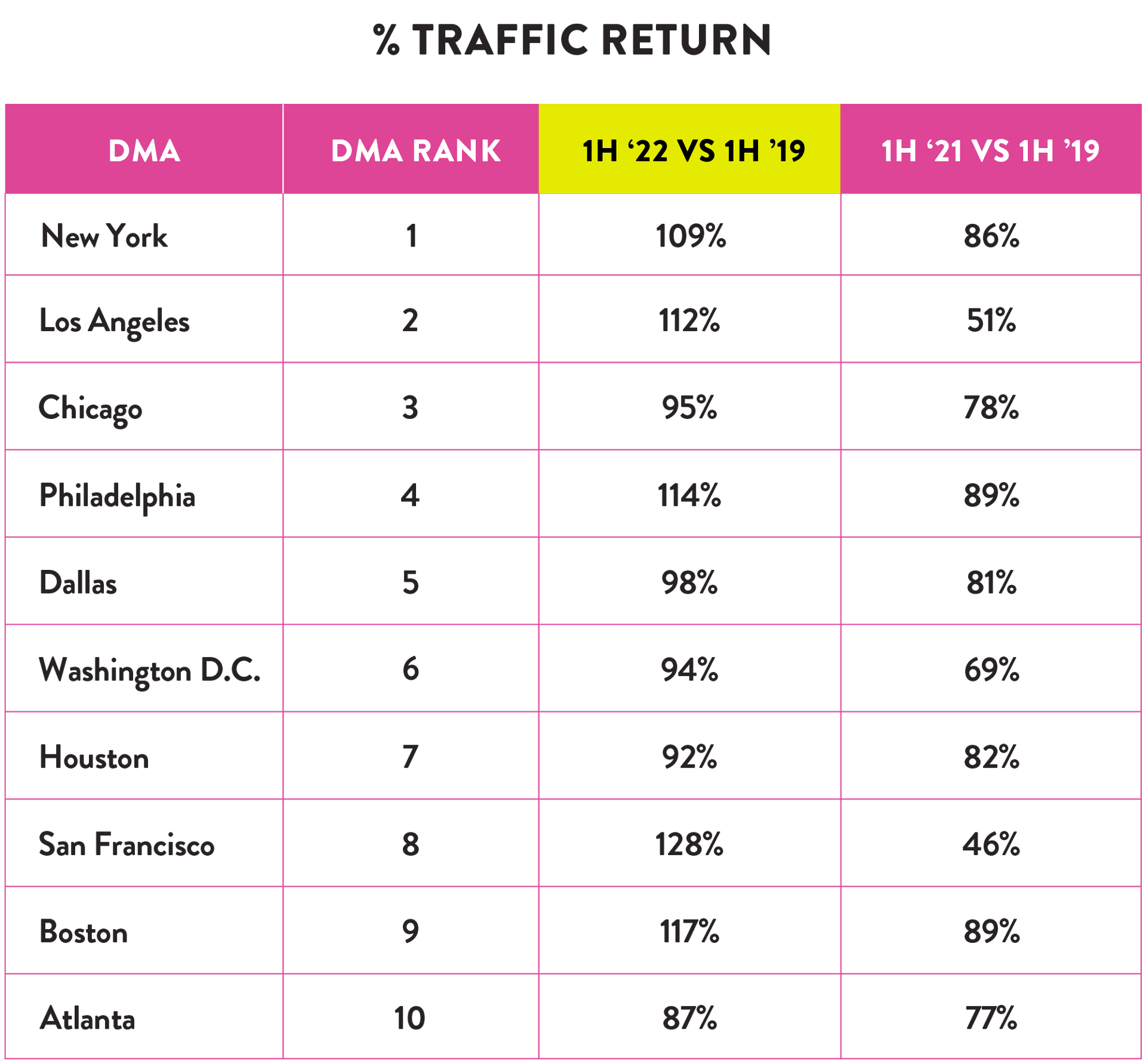 A Rising Tide
The traffic recovery is not unique to Lightbox's network, with malls overall benefiting from steadily climbing traffic over the past year. Consistent with our network which started to see full recovery as early as March 2021, Placer.ai reports in their Mall Deep Dive – 2021 Yearly Review that malls started their healthy comeback last year. As evidenced by the 1H 2022 data, momentum has certainly continued to date, signaling a positive trajectory for the rest of the year.