LIGHTBOX FALL 2020 MALL VISITOR STUDY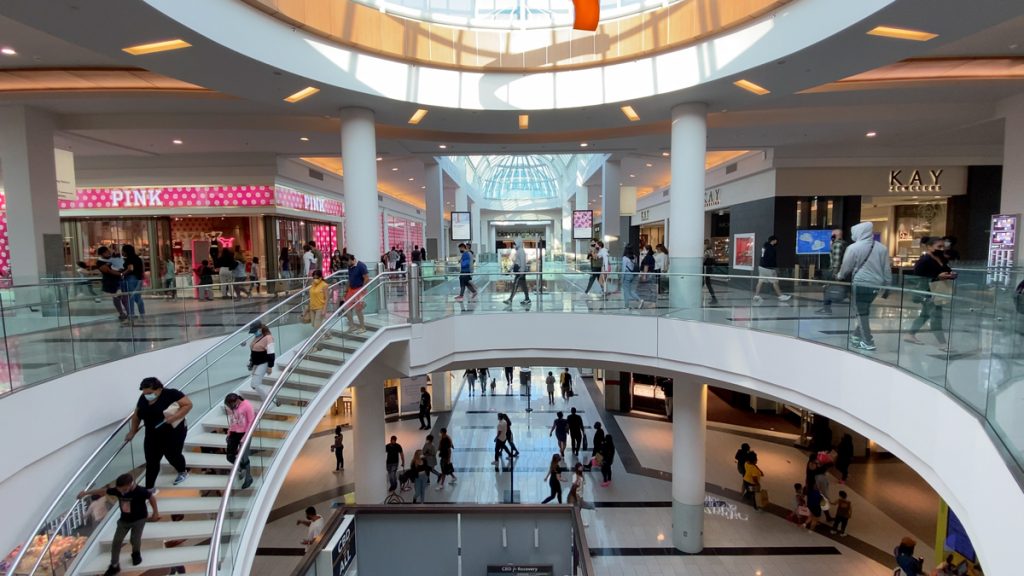 From September 8 – 22, Lightbox (via Epicenter) surveyed 600+ Americans aged 16-64 on their behavior and attitudes around visiting malls during the global pandemic. The results show that consumers are going to malls more often, taking their time while there, and feeling that it's a safe experience.
They're also noticing ads in malls more and taking action. In-mall advertising is the #1 medium that drives traffic to businesses, ranking higher than online/search, TV and CTV. While the proximity to retail facilitates foot traffic, its impact on other actions is also undeniable, ranking #2 for any actions taken. And with consumers continuing their journey to other destinations – doctor offices and home improvement stores at the top of the list – what they see in the mall can stay with them even after they've left.
A DESTINATION FOR RECREATION
Many recreational options remain inaccessible due to the pandemic. Sports and concert venues, indoor parks, many movie theaters and other outlets are off limits for the foreseeable future. Malls, on the other hand, provide ample space to safely spend a few hours to shop, dine or socialize.
That may explain why Americans are visiting malls more than pre-pandemic, 2.6x now vs. 2.4x in 2019 among A18+ (2.8x vs. 2.5x among A18-34) in the past 4 weeks.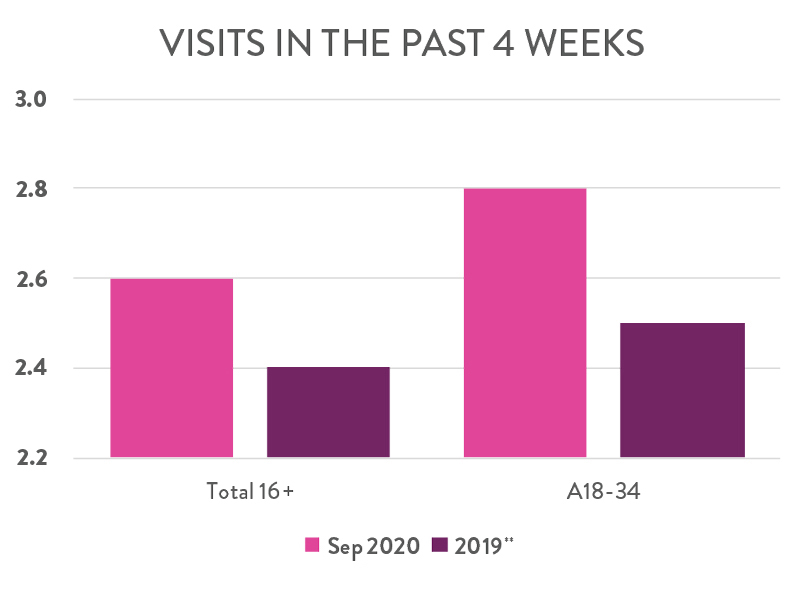 And they're spending quality time once there—74 minutes on average*. 67% said they took their time to roam/shop or did as much as they could with the time they had. Over 1 in 2 shoppers end up visiting stores they had not planned on going to (55%) and ate/got take out at the food court or a restaurant (60%). Some also enjoyed other attractions or lifestyle outlets such as salons or gyms located in the mall (30%)
Source: *Intermx; **2019 visits per Nielsen On Location 2019
SAFE SHOPPING
Mall developers have gone to great lengths to ensure the health and safety of its visitors. And it's paying off. Nearly all visitors are masked and felt that the venues set up appropriate measures that made them feel safe. So much so that 91% said they will return.

Curbside pickup surged during the pandemic, designed for convenience as well as nervous shoppers. However, 1 in 3 consumers has not used the service, with older consumers (A55+: 71%) least likely to shop this way.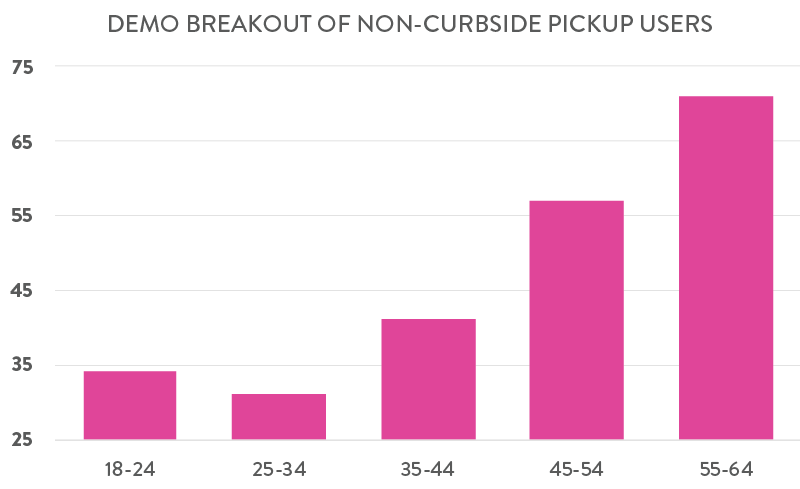 LOCATION, LOCATION, LOCATION
Consumers' decisions are heavily influenced by mall advertising more than other media, from the stores they visit to products they search for online. The combination of an incredibly high notice rate of 80% (84% among A18-34), proximity to businesses, and its presence while consumers are in a ready-to-buy mindset drives 72% to take action, ranking #1 for foot traffic to #2 for any actions taken.
THEIR JOURNEY CONTINUES
The pandemic has influenced where consumers are stopping after their mall visit. Doctors offices and home improvement stores are the most frequented, a likely by-product of COVID-19's impact on health and home outlooks.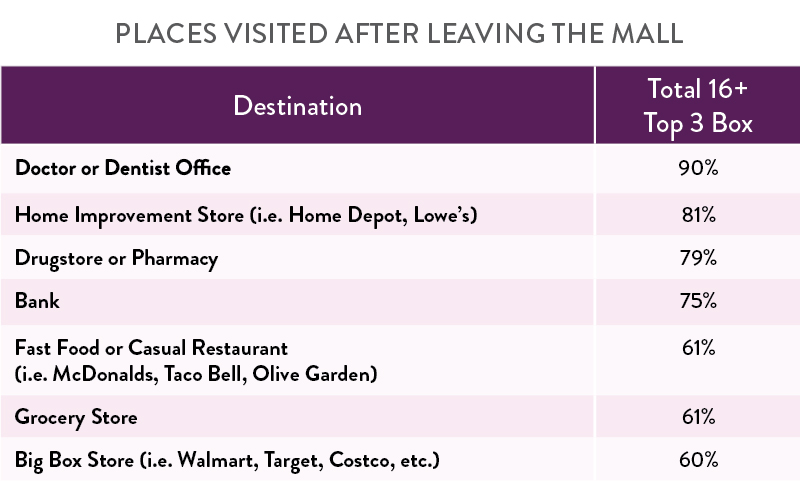 Source: Epicenter; Fieldwork: 9/8/2020-9/22/2020; A16-64; Total N = 648