Lightbox Welcomes Miriam Chiume, Director, Sales Analysis & Operations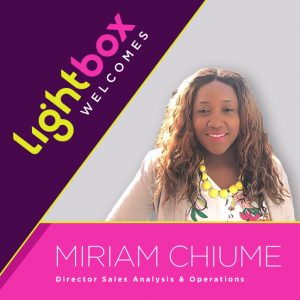 Miriam Chiume joins Lightbox as Director of Sales Analytics and Operations. She brings a wealth of experience from over 10 years in sales operations and strategy roles at companies such as AOL, Adcolony and, most recently, Roku where she was responsible for building their sales ops function from the ground up and putting processes and systems in place to support their massive sales growth.
At Lightbox, Miriam will oversee Salesforce and also be responsible for ensuring that the right insights, tools and forward thinking are applied to sales strategy.
Outside of work, Miriam is a firm believer of paying it forward, and dedicates time mentoring students, advising non-profit organizations, and providing career coaching to family and peers.
Miriam reports to Pete Miles, SVP Ad Platform and Operations.